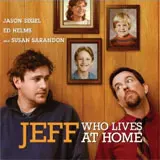 On June 19, Jeff Who Lives at Home will be cleared to enter your home on Blu-ray and DVD courtesy of Paramount Home Entertainment. Starring Jason Segal (The Muppets), Ed Helms (The Office, The Hangover), Judy Greer and Susan Sarandon, the comedy revolves around basement-bound Jeff and a day spent with his brother outside the confines of his mother's home.
Thanks to Paramount, we are going to award two winners a fantastic Jeff Who Lives at Home in support of the upcoming home video debut. Each winner will take home Jeff Who Lives at Home on Blu-ray, a backpack, t-shirt, koozie and other items any basement dweller will need to survive (see the image below). Yes, that is a bottle of wood glue in the picture.
For a chance to win one of the Jeff Who Lives at Home Basement Viewing packs, please complete and submit the short entry form below. The odds of winning can be increased each and every day you return to enter again for as many days as the contest is open. The more entries, the better the odds. You must reside in the U.S. or Canada to participate.