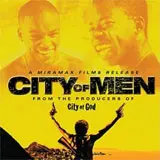 In 2003, director Fernando Meirelles received a best actor Academy Award nomination for City of God. Five years later Meirelles returns to the Brazilian favelas to produce City of Men.
City of Men was recently released on DVD and we've got 5 copies to issue to the lucky winners of this giveaway. Simply fill out and submit the form below to put your name in the hat. Or, if you want to up your odds, return each day and enter again.
About City of Men: Growing up in a culture dictated by violence and run by street gangs teenagers Acerola (Douglas Silva) and Laranjinha (Darlan Cunha) have become close as brothers. With their eighteenth birthdays fast approaching Laranjinha sets out to find the father he never met while Acerola struggles to raise his own young son. But when they suddenly find themselves on opposite sides of a gang war the lifelong friends are forced to confront a shocking secret from their shared past. Featuring stunning cinematography and a fascinating behind-the-scenes feature CITY OF MEN is an even greater experience on DVD.