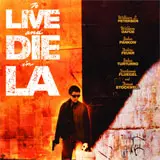 William L. Petersen (CSI) and Willem Dafoe (Spider-Man) square off in To Live and Die in L.A., available as of February 2 for the first time on Blu-ray Disc.
We are going to give five of you To Live and Die in L.A. on Blu-ray on the house in this contest. To enter for a chance to win, fill out and submit the entry form below. Odds of winning can be increased by returning daily to enter again for as long as the contest is active.
Full of flash, style and grit, this raw tale of corruption and revenge features one of the most harrowing car chases ever caught on film and a shockingly explosive ending. Federal Agent Richard Chance (Petersen) has a score to settle, and he's through playing by the rules. Whether that means blackmailing a beautiful parolee, disobeying direct orders or hurtling the wrong way down a crowded freeway, he vows to take down a murderous counterfeiter (Dafoe) by any means necessary. But as the stakes grow higher, will Chance's obsession with vengeance ultimately destroy him?