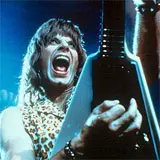 After many delays and false starts, MGM Home Entertainment has finally debuted the classic "rockumentary" This is Spinal Tap in high definition on Blu-ray Disc.
Five sets of This is Spinal Tap on Blu-ray are here looking for a new home, and you can take a shot at providing one by sending in the form below. Return any or every day the contest is active and enter again. Go on, seriously. Each additional entry pumps up your odds of winning.
In 1982 legendary British heavy metal band Spinal Tap attempt an American comeback tour accompanied by a fan who is also a film-maker. The resulting documentary, combined with powerful performances of Spinal Tap's pivotal music and profound lyrics, candidly follows a rock group heading towards crisis, culminating in the infamous affair of the 18-inch-high Stonehenge stage prop surrounded by dancing midgets.