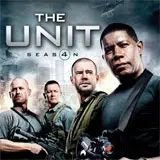 The Unit comes to a close in season four which ironically is the first season Fox Home Entertainment is rolling out on Blu-ray Disc, now available in stores everywhere.
I have five sets of The Unit: Season Four on Blu-ray that will be awarded to the five lucky winners of this contest. Fill out the entry form below for a chance to win, then return any or every day thereafter to enter again. Good luck!
Known only as The Unit, this ultra-secret contingent of Special Forces soldiers operate outside the usual military chain of command. Their very existence is a closely held secret protected by the soldiers themselves. Their wives, who are also in on the secret, strictly adhere to a fictitious cover story that is provided for them. The Unit chronicles a team of unknown heroes who, without ever receiving credit, risk their lives while protecting others.