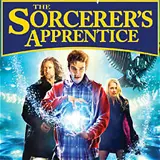 Disney and Jon Turteltaub's The Sorcerer's Apprentice starring Nicolas Cage, Alfred Molina, Jay Baruchel and Nicole Ehinger conjures its way to Blu-ray and DVD on November 30 and we're giving away two of the Blu-ray and DVD combo pack releases to the winners of this contest.
For a chance to score The Sorcerer's Apprentice on Blu-ray, please fill out and submit the entry form below. The odds of winning can be increased each day you return to enter again for as many days as the contest is open. Good luck, sorcerers.
Balthazar Blake (Nicolas Cage) is a modern-day sorcerer with his hands full defending Manhattan against dark forces. When a seemingly average kid shows hidden potential, Balthazar takes his reluctant recruit on a crash course in the art and science of magic to become the ultimate sorcerer's apprentice. Experience more extraordinary thrills, heart-stopping action and spectacular special effects than you can imagine as these unlikely partners show us that the real world is far more magical than we ever knew!