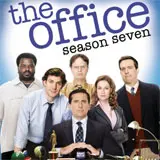 It's the last hurrah for Steve Carell on NBC's The Office in season 7 as the Dunder Mifflin manager departs the show. If you missed The Office season 7 last fall and spring, here's an opportunity to get caught up.
One lucky reader will win the entire seventh season of The Office on Blu-ray (now available in stores everywhere) in this contest. To take a shot at winning the set, please fill out and submit the entry form below. Increase your odds of winning each and every day you return to enter again for as many days as the contest is open.
In the seventh season of this Primetime Emmy Award-winning series, inappropriate behavior is business as usual, but big surprises are in store! Dwight is now the owner of the building and he may be letting this power go to his head; Andy is courting Erin, who is dating Gabe; Jim and Pam are struggling with being new parents; and a parade of ghosts of girlfriends past haunt Michael, leading to his final days at Dunder Mifflin. This memorable season features guest appearances from Amy Ryan (Gone Baby Gone), a cameo from Ricky Gervais (The Invention of Lying), and an unforgettable hour-long season finale with Jim Carrey (Bruce Almighty), Will Arnett (Arrested Development), Ray Romano (Everybody Love Raymond), James Spader (Boston Legal), and Catherine Tate (Doctor Who), all vying for Michael Scott's old post. Plus, see hours of bonus features, including extended episodes, deleted scenes, bloopers, webisodes and more, in this must-own five-disc collection.