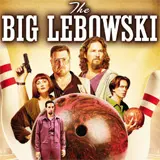 The Big Lebowski makes its Blu-ray debut on August 16 and to salute the arrival of Jeff Bridges as The Dude in high definition, we've teamed up with Universal Studios Home Entertainment to offer five lucky readers a chance to take home the new limited edition Blu-ray set.
For a chance to win The Big Lebowski limited edition on Blu-ray, please fill out and submit the entry form below. You can further increase the odds of winning any or every day you stop back to enter again for up to as many days as the contest is open to entries.
From the Academy Award-winning Coen brothers, The Big Lebowski is a hilariously quirky comedy about bowling, a severed toe, White Russians and a guy named…The Dude. Jeff "The Dude" Lebowski doesn't want any drama in his life… heck, he can't even be bothered with a job. But, he must embark on a quest with his bowling buddies after his rug is destroyed in a twisted case of mistaken identity. Starring Jeff Bridges, John Goodman, Julianne Moore, Steve Buscemi, Philip Seymour Hoffman and John Turturro.
Bonus features on the new limited edition Blu-ray release include U-Control: Scene Companion, U-Control: Mark It, Dude, U-Control: The Music of The Big Lebowski, Worthy Adversaries: What's My Line Trivia, The Dude's Life, The Dude Abides: The Big Lebowski Ten Years Later, Making of The Big Lebowski, The Lebowski Fest: An Achiever's Story, Flying Carpets and Bowling Pin Dreams: The Dream Sequences of The Dude, Interactive Map, Jeff Bridges Photo Book, and An Introduction.