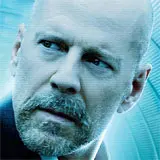 Surrogates stars Bruce Willis as a cop living in a world where everyone performs their daily duties through a mechanical copy of themselves while their real body is jacked into a chair. It debuts on Blu-ray Disc and DVD on January 26.
To coincide with the release, I have two copies of Surrogates on Blu-ray to be awarded to the winners of this contest. For a chance to win, fill out and send in the completed entry form below. You can optionally return any or every day thereafter to enter again and increase the odds of winning each time.
How do you save humanity when the only thing that's real is you? From the director of Terminator 3 comes a jaw-dropping psychological thriller starring the ultimate action hero, Bruce Willis. In the not-so-distant future, where people experience life through perfect surrogates controlled from the safety of their own homes, murder is a thing of the past. But when a college student linked to the creator of these replicants is killed, one FBI agent must re-enter reality and risk his life to unravel the mystery. In the battle of technology versus humanity, who can you trust? Experience every electrifying moment of this mind-blowing movie. Based on the acclaimed graphic novel and exploding with unforgettable action, Surrogates is nonstop entertainment from start to finish!