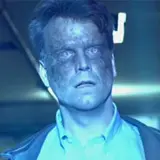 Before Battle: Los Angeles conquered the box office this past weekend, a different breed of aliens descended upon the City of Angels in last November's Skyline. Made on a fraction of the budget as Battle: Los Angeles but arguably offering up equally if not more impressive otherworldly attackers, Skyline makes its way to Blu-ray Disc and DVD on Tuesday, March 22. You can read our Skyline Blu-ray review here.
We've partnered with Skyline distributor Universal Studios Home Entertainment to offer five of you the opportunity to take home Skyline on Blu-ray if chosen as a winner in this contest. Fill out the entry form below for a chance to win, and then increase the odds of being selected a winner each day you stop back to enter again for as many days as the contest is open.
It was supposed to be a simple birthday weekend in Southern California. But when sunrise arrives two hours early in the form of a haunting light from an unknown source, a group of friends watch in terror as people across the city are drawn outside and swept into massive alien ships that have blotted out the L.A. skyline. From tankers to drones and hydra-like extraterrestrials, the aliens are inescapable and seemingly indestructible. Now, it will take every survival instinct the group has to elude capture in this riveting, action-packed sci-fi adventure starring Eric Balfour (The Texas Chainsaw Massacre), Donald Faison ('Scrubs') and Scottie Thompson (Star Trek).