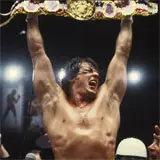 Imagine owning all the Rocky movies, from the original Rocky through Rocky Balboa, in one massive Blu-ray Disc set. Now you can as of November 3 and to help a few of you get an inside track on this set, we are giving away five of them to five lucky readers ($99.98 value).
For a chance to win one of the Rocky: The Undisputed Collection on Blu-ray Disc sets up for grabs, fill out and send in the completed entry form below. You can enter once per day as long as the contest is running. The more you enter, the better the odds of winning. Good luck!
This definitive collection enshrines the rags to riches tale of Philadelphia club fighter Rocky Balboa and his unwavering tenacity to go the distance. Memorialized with pristine picture and captivating audio, witness the epic span of Rocky's fighting career, including memorable matchups with Mr. T, Hulk Hogan, Dolph Lundgren and Tommy Morrison. This celebrated saga of the battle for glory and self-respect boasts crowd-pleasing performances by Sylvester Stallone (Rambo) Talia Shire (The Godfather), Burt Young ("The Sopranos"), Carl Weathers (Predator) and Burgess Meredith (Grumpy Old Men). A triumph outside the ring, the monumental Academy Award winning Rocky franchise has won over audiences as well as critics and, over 30 years after the original film, Rocky continues to be recognized as a film icon, sports legend and American hero.