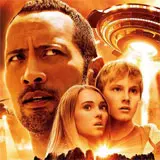 The classic Witch Mountain films are joined by a modern incarnation with the new release of Race to Witch Mountain which crashed onto a Blu-ray Disc + DVD + Digital Copy set on August 4.
I have one set of Disney's Race to Witch Mountain on Blu-ray Disc that can be won in this daily entry contest. Send in the form below for a chance to win, or return any or every day the contest is active and enter again to up the odds each time.
Fasten your seatbelts for the thrill ride of your life in Disney's fun family action-adventure — Race to Witch Mountain, starring Dwayne Johnson. Jack Bruno (Johnson), a Las Vegas cabdriver struggling to stay on the right path, gets an out-of-this-world incentive when two aliens, disguised as teenagers, suddenly appear in his taxi. In a race against government agents, an alien hunter and time itself, Jack must help the children recover their lost spaceship so they can return home and save their planet and ours. Breathtaking chases, close calls and special effects make this an action-adventure the whole family will enjoy.