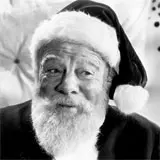 Fox Home Entertainment has gotten the jump on issuing some holiday cheer with the recent release of the 1947 original and 1994 remake of the Christmas classic Miracle on 34th Street for the first time on Blu-ray Disc.
To help Fox spread the holiday cheer, we are giving away five sets of both Miracle on 34th Street films on Blu-ray to five lucky readers. Fill out and submit the entry form below for a chance to win. Increase your odds of winning by returning any or every day thereafter to enter again.
Six-year-old Susan doubts childhood's most enduring miracle, Santa Claus. Her mother told her the "secret" of Santa a long time ago, so Susan does not expect to receive the most important gifts on her Christmas list. But after meeting a special department store Santa, who is convinced he is the real thing, Susan is given the most precious gift of all – something to believe in.