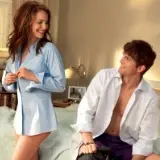 Natalie Portman is everywhere these days. She recently picked up a Best Actress Academy Award for Black Swan and soon after the film was released on Blu-ray and DVD. This Friday she co-stars in Marvel's Thor. Next week on May 10, she'll be back on store shelves alongside Ashton Kutcher in the romantic comedy No Strings Attached.
We've partnered with Paramount Home Entertainment to offer up a handful of prizes to support the Blu-ray and DVD release of No Strings Attached. One grand prize winner will take home the No Strings Attached Blu-ray and DVD combo pack and a "Girls Night" party pack, pictured below. If a guy wins it then they can ask their lady to bake up some of those Sprinkles cupcakes. Additionally, two runner-ups will score the No Strings Attached Blu-ray and DVD combo pack.
To enter for a chance to win, please fill out the short entry form below with your full name and email address. The odds of winning are easily increased each day you stop back to enter again for as many days as the contest is open.
Academy Award Winner Natalie Portman (Black Swan) and Ashton Kutcher (What Happens in Vegas) star in the hilarious hit comedy that takes a modern look at what happens when friends-in-need do the deed. Emma is a busy doctor who sets up a seemingly perfect arrangement when she offers her best friend Adam a relationship with one rule: No Strings Attached. But when a fling becomes a thing, can sex friends stay best friends?