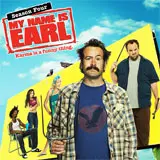 "Karma" is bringing My Name is Earl with Jason Lee and Jaime Pressly to Blu-ray Disc for the first time on September 15 when Fox releases the complete fourth season.
We are going to award a set of My Name is Earl: Season Four on Blu-ray to five lucky readers who enter this contest. For a chance to have your name drawn, fill out and send in the completed entry form below. If you want, return any or any day thereafter to enter again and increase your odds of winning each time.
"Karma" should be a four-letter word. Just ask Earl, the lovable loser with a hilarious laundry list of dirty deeds that need undoing, from stealing a children's bookmobile to getting his babysitter pregnant—the hard way! And, while Earl's brother Randy starts a karmic list of his own, his ex-wife, Joy, and her new husband are movin' on up to the suburbs. Trouble is, you can take the girl out of the trailer park, but you can't take the trailer park out of the girl. Hilariously irreverent and outrageously over-the-top, My Name is Earl: Season Four proves, once again, that karma is a funny thing.