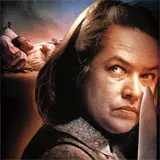 James Caan and Kathy Bates star in Misery, a tale of torture and obsession from the mind of Stephen King that is newly available for the first time on Blu-ray Disc.
Five copies of Misery are up for grabs in this contest. Send in the completed entry form below for a chance to win one. You can optionally return any or every day the contest is running to enter again and increase the odds of winning.
Novelist Paul Sheldon (Caan) doesn't remember the blinding blizzard that sent his car spinning off the road. Nor does he remember being nursed back from unconsciousness. All he remembers iswaking up in the home of Annie Wilkes (Bates)a maniacal fan who is bent on keeping her favorite writer as her personal prisoner for the rest of his "cock-a-doodie" life!