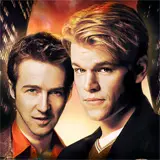 The high stakes poker drama Rounders starring Matt Damon, Edward Norton and John Malkovich will be makings its Blu-ray debut on August 23. Read our Rounders Blu-ray review.
Thanks to Lionsgate, we will be awarding three winners in this contest a copy of Rounders on Blu-ray. To play the game and take a shot at winning one, please fill out and submit the entry form below. You can then optionally return any or every day the contest is open to enter again.
Rounders looks at the underground world of high stakes poker. Damon stars as a reformed gambler, who takes to the tables once again when his best friend (Norton) finds himself in hot water with loan sharks.