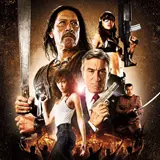 Robert Rodriguez' Grindhouse spoof trailer-turned-feature film Machete is slashing its way onto Blu-ray Disc with digital copy and DVD January 4 and I've got two copies of the Blu-ray version that will be awarded to a pair of winners in this contest.
For a chance to win one of the Machete Blu-ray titles, please fill out and submit the entry form below. You can increase your odds of being picked a winner each day you stop back to enter again for as many days as the contest is open.
From director Robert Rodriguez (Grindhouse, Sin City), and featuring an all-star cast including Danny Trejo, Robert De Niro and Jessica Alba, comes an action-packed, bare-knuckled fistful of carnage asada! Set up, double-crossed and left for dead, Machete (Trejo) is an ass-kicking ex-Federale who lays waste to anything that gets in his path. As he takes on hit men, vigilantes and a ruthless drug cartel, bullets fly, blades clash and the body count rises. Any way you slice it, vengeance has a new name–Machete.