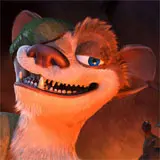 The hugely successful third entry in the Ice Age series, Ice Age: Dawn of the Dinosaurs, has stomped its way onto Blu-ray Disc in stunning 1080p video and thunderous 5.1 DTS-HD Master Audio.
We are giving away five sets of this combo Blu-ray Disc/DVD release to five lucky readers. For a chance to win one, fill out and send in the completed entry form below. You can optionally return any or every day after your first entry and enter again for as long as the contest is running.
In Ice Age 3: Dawn of the Dinosaurs, Manny and the herd discover a lost world of ferociously funny dinosaurs, including a cranky T. rex who's got a score to settle with Sid! Meanwhile, Scrat goes nuts over the beautiful Scratte, but is she trying to win his heart – or steal his acorn?