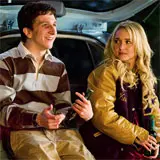 Hayden Panettiere makes the jump from Heroes to a big screen leading role in I Love You, Beth Cooper, now available on Blu-ray Disc and DVD from Fox Home Entertainment.
While you enjoy (or stay away) from season four of Heroes now airing on Monday evenings, you can enter for a chance to win one of five I Love You, Beth Cooper on Blu-ray Disc titles up for grabs. Send in the completed entry form below for a chance to win. You can also return any day after and enter again to increase the odds of winning each time.
Directed by acclaimed filmmaker Chris Columbus (Home Alone films) and starring hot Hollywood sensation Hayden Panettiere in the title role, the film is based on a novel written by Emmy Award-winner Larry Doyle (The Simpsons). When Denis Cooverman (Paul Rust; Semi-Pro), the geekiest guy in high school, proclaims his love for super-popular Beth Cooper during his valedictorian speech, everyone is… well… speechless! But the real shock comes that night when Beth shows up at Denis' house with her two best friends to show him how the cool kids party. You'll LOL as Denis tries to keep up with Beth — and stay away from her maniacal ex-boyfriend Kevin and his ticked-off pals. Plus, watch Denis and Beth take their hilarious relationship to a whole new level with the outrageous alternate ending you didn't see in theaters!