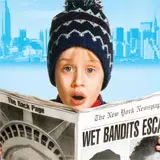 Now available from Fox Home Entertainment on Blu-ray Disc and joining its predecessor in high definition is Home Alone 2: Lost in New York with Macaulay Culkin once again squaring off against Joe Pesci and Daniel Stern.
There are five Blu-ray versions of Home Alone 2: Lost in New York here to be issued to five lucky readers. You can take a shot at winning one by sending in the completed entry form below. Optionally return any or every day thereafter and enter again to increase the odds of winning with each additional entry. Good luck!
Kevin McCallister (Macaulay Culkin) is back! But this time he's in New York City with enough cash and credit cards to turn the Big Apple into his own playground! But Kevin won't be alone for long. The notorious Wet Bandits, Harry and Marv (Joe Pesci and Daniel Stern), still smarting from their last encounter with Kevin, are bound for New York too, plotting a huge holiday heist. Kevin's ready to welcome them with a battery of booby traps the bumbling bandits will never forget!