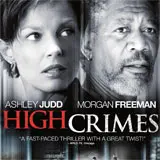 New on Blu-ray and available for the first time in high-def is the 2002 thriller High Crimes starring Ashley Judd and Morgan Freeman.
I have five sets of High Crimes on Blu-ray to be awarded to the winners of this contest. Enter using the form below, then optionally return any or every day the contest is running to enter again and increase your odds of winning with each additional entry.
Ashley Judd stars as Claire Kubik, a high-powered attorney whose perfect life comes down when her husband is charged with high crimes of murder. Enlisting the aid of a shrewd military lawyer (Morgan Freeman), Claire will risk her career and even her life to find the truth.