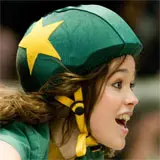 Drew Barrymore makes her directorial debut with Juno star Ellen Page in Whip It, a coming-of-age story centered around a roller derby team that is coming to Blu-ray Disc and DVD on January 26.
Skating into the homes of 5 lucky winners in this contest will be a copy of Whip It on Blu-ray. For a chance to win one, fill out and send in the entry form below. If you choose, return any or every day thereafter to enter again and increase the odds of winning with each additional entry.
The memorable heroine of Juno is back and scores huge laughs as Bliss Cavendar, a blue-haired misfit stuck in a tiny Texas town in Whip It, a coming-of-age comedy skating onto Blu-ray Disc with Digital Copy and DVD January 26 from Twentieth Century Fox Home Entertainment. Tired of following in her family's footsteps, Bliss discovers a way to put her life on the fast track when she lands a spot on a rough-and-tumble roller derby team. Her journey comes full-circle as she reconnects with her family and finds her own path in the world.