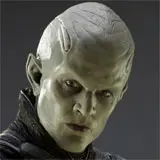 On July 28. Fox Home Entertainment will release Dragonball Evolution on Blu-ray and DVD, bringing the popular manga series as a live-action film onto high-def home video for the first time.
I have five sets of Dragonball Evolution on Blu-ray that will be given away in this contest. For a chance to win one, send in the completed entry form below. You are also encouraged to return daily and enter again for as many days as the contest is running.
Based on one of the most popular Japanese manga series of all time, Dragonball: Evolution follows a young warrior on an epic adventure to discover his destiny…and save the world from the forces of darkness. For his eighteenth birthday, mild-mannered Goku is given a mystical Dragonball, one of only seven in existence, which combine to grant a perfect wish to whoever possesses them. But an ancient warlord named Piccolo has escaped eternal imprisonment and is on his own quest to gather the Dragonballs. Goku must enlist the help of his friends—and the power of his evolving martial arts skills—to defeat Piccolo before it's too late! Packed with spectacular visual effects, high-flying action, and over an hour of hard-hitting extras, Dragonball: Evolution Z-Edition brings the legend to life as never before!