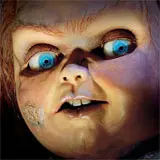 Our favorite psychopathic killer doll is making his high definition debut on September 15 in Child's Play and I have five of the new release titles to be issued to the winners of this contest.
Submit the completed entry form below for a chance to win Child's Play on Blu-ray. Return any or every day thereafter and enter again to increase the odds of winning. Good luck!
After 6-year-old Andy Barclay's (Alex Vincent) babysitter is violently pushed out of a window to her death, nobody believes him when he says that "Chucky," his new birthday doll, did it! Untilthings start going terribly wrong dead wrong. And when an ensuing rampage of gruesome murders lead a detective (Chris Sarandon) back to the same toy, he discovers that the real terror has just begun'the deranged doll has plans to transfer his evil spirit into a living human beingyoung Andy!