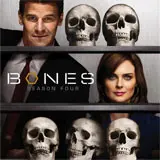 Newly available on Blu-ray Disc for the first time is Fox's Bones starring David Boreanaz and Emily Deschanel in the fourth season of the show.
I have five sets of Bones: Season Four on Blu-ray Disc up for grabs in this contest. Send in the completed form below for a chance to win. Better yet, return every or any day and enter again for as long as the contest is open.
Combining suspense, thrills, quirky humor and the irresistible chemistry of David Boreanaz and Emily Deschanel, Bones is cutting-edge TV drama at its most compelling! Season Four finds FBI agent Booth and Dr. Bones Brennan investigating a murder while on a flight to China. Back in the States, Booth's hard-edged technique and Brennan's uncanny scientific ability come together with their oddball team of investigative "Squints," to solve some of the most baffling murders ever.