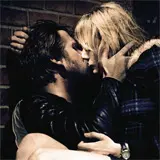 Blue Valentine earned quite a bit of press around its release for the right and wrong reasons. The right reason was a Best Actress Academy Award Nomination for Michelle Williams who plays one half of a young married couple (the other half is played by Ryan Gosling). The wrong reason was Blue Valentine being slapped with an NC-17 rating, a decision that was eventually overturned to achieve the desired R-rating.
We've teamed up with Anchor Bay Home Entertainment to offer three readers the chance to win Blue Valentine on Blu-ray, due in stores on May 10. For a chance to win, please fill out and submit the short entry form below. As this is a daily entry contest, you can return any or every day the contest is open to enter again. The more entries, the greater the odds of winning.
Told in an innovative style that blends present moments in time with romantic past memories, Blue Valentine is the uncompromising portrait of Dean and Cindy, a young married couple who have grown apart, taking one night away from their daughter to try to save their relationship.