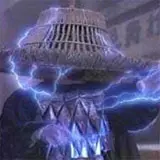 One of Kurt Russell's most memorable roles is coming to Blu-ray Disc on August 4 when Fox Home Entertainment releases Big Trouble in Little China.
I have five sets of this new release, each to be awarded to a randomly selected winner in this contest. Send in the completed entry form below for a chance to win. If you want better odds, return any or every day the contest is running to enter again.
Directed by thrill master John Carpenter, this edge of your seat adventure stars Kurt Russell as Jack Burton, a tough talking, wisecracking truck driver whose hum drum life on the road takes a sudden supernatural tailspin when his best friend's fiancée is kidnapped. Speeding to the rescue, Jack finds himself deep beneath San Francisco's Chinatown, in a murky, creature filled world ruled by Lo Pan, a 2000 year old magician who mercilessly presides over an empire of spirits. Dodging demons and facing baffling terrors, Jack battles his way through Lo Pan's dark domain in a full throttle, action riddled ride to rescue the girl. Co-starring Kim Cattrall, this effects filled sci fi spectacle speeds to an incredible, twist taking finish.