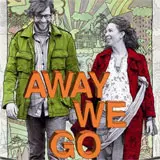 Sam Mendes' Away We Go (read our review) is newly available on Blu-ray Disc and DVD from Universal Studios Home Entertainment.
Up for grabs are two of the Blu-ray version of Away We Go which you can take a shot at winning by entering this contest via the online form below. You can optionally return any or every day thereafter to enter again and increase the odds of being chosen each time.
John Krasinski (The Office) and Maya Rudolph (Saturday Night Live) star in the heartfelt film that explores the comedic twists and turns in one couple's journey across contemporary America. Anticipating the birth of their first child, longtime couple Burt (Krasinski) and Verona (Rudolph) embark on an ambitious itinerary to visit friends and family in order to find their perfect home. Featuring a remarkable soundtrack and an incredible ensemble cast – including Jeff Daniels, Allison Janney, Maggie Gyllenhaal, Catherine O'Hara and Jim Gaffigan.