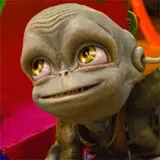 Now available on Blu-ray and DVD from Fox Home Entertainment is the summer kids adventure film Aliens in the Attic.
We havefive copies of Aliens in the Attic on Blu-ray Disc to be awarded to the five winners of this contest. Send in the completed entry form below for a chance to win. You can also return any or every day the contest is running to enter again. Good luck.
It's summer vacation, but the Pearson family kids are stuck at a boring lake house with their nerdy parents. That is until feisty, little, green aliens crash-land on the roof, with plans to conquer the house AND Earth! Using only their wits, courage and video game-playing skills, the youngsters must band together to defeat the aliens and save the world — but the toughest part might be keeping the whole thing a secret from their parents!