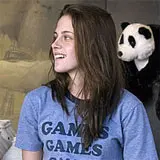 On August 25, Adventureland starring Zombieland's Jesse Eisenberg, The Twilight Saga: New Moon's Kristen Stewart and Deadpool himself, Ryan Reynolds, is debuting on Blu-ray Disc in high definition for the first time.
I have two sets of Adventureland on Blu-ray Disc that will be given away to two lucky readers in this daily entry contest. Send in the form below for a chance to win, then return any or every day and enter again to up the odds.
From the director of Superbad comes Adventureland, a smart, witty comedy we can all relate to. When James Brennan (Jesse Eisenberg) has to cancel his dream summer vacation and make some money for grad school, the only job he can get is at Adventureland, a tacky amusement park where the games are rigged and the rides make you hurl. But it's where he meets Em (Kristen Stewart), and his rollercoaster ride to nowhere turns into the best summer ever.