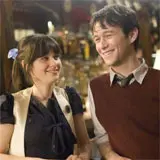 Zooey Deschanel and Joseph Gordon-Levitt star in the offbeat romantic comedy (500) Days of Summer from rookie and talented feature film director Marc Webb.
You can take a shot at winning one of five sets of (500) Days of Summer on Blu-ray by entering this contest via filling out and submitting the entry form below. You can also, if you choose, return any or every day thereafter and enter again to increase your odds of winning each time.
Boy meets girl. Boy falls in love. Girl doesn't. Twentieth Century Fox Home Entertainment presents the critically acclaimed, offbeat romance that proves when it comes to love some people know nothing at all as (500) Days of Summer arrives on Blu-ray Disc and DVD December 22. Zooey Deschanel (Yes Man) and Joseph Gordon-Levitt (G.I. Joe: The Rise of Cobra) star in a story about love and fate, as a young greeting card writer (Gordon-Levitt) who is hopelessly, helplessly searching for the girl of his dreams… and his new co-worker, Summer Finn (Deschanel), may just be "the one." But the 500 days of their offbeat relationship reveal (in no particular order) that the road to happiness can be unpredictable, uncontrollable — and unbelievably funny! From first time feature film director Marc Webb (Jesse McCartney: Up Close), the hilarious true-to-life film also stars Matthew Gray Gubler (Alvin and the Chipmunks) and Clark Gregg (The New Adventures of Old Christine) in a unique dissection of the uncertain and whimsical year-and-a-half of one young man's no-holds-barred love affair, where he learns that love can be difficult, but it's also by far the best thing life has to offer.