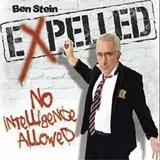 Now available from Vivendi Entertainment is Ben Stein's Expelled: No Intelligence Allowed on Blu-ray Disc. The release marks the first foray into high-def for the famously monotone actor/comedian.
We have three copies of the new film on Blu-ray ready to hand over to three of you. For a chance to be chosen, fill out and send in the electronic entry form below. If you want to increase your odds of having Ben sent to your home, return each day the contest is running and enter again.
About the film: Expelled digs deep into the world of intelligent design versus evolution and embraces a free speech stance on the subject. Ben Stein uses his unique brand of humor to provide a funny and insightful narrative throughout the film as he visits universities to question scientists and professors on both sides of the debate, including several atheist scientists who support the theory of evolution. Stein reveals an open hostility amongst the scientific community towards scientist who embrace intelligent design.