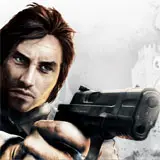 Arriving in stores on June 24 is the long-awaited re-imagining of Atari's Alone in the Dark on Xbox 360, Playstation 2, Nintendo Wii and the PC.
We're offering two lucky winners the opportunity to explore the mysteries of Central Park in Alone in the Dark on either Xbox 360 or Nintendo Wii courtesy of Atari. To sweeten the pot, the winners will also receive an Alone in the Dark t-shirt and hat. This contest is for residents of the United States only.
You can enter for a chance to win by sending in the form below. Entering again daily will greatly increase your odds of winning. Good luck, investigator.
About Alone in the Dark: Uncover the earth-shattering secret hidden in New York's iconic Central Park in Alone In The Dark. History records that Central Park was built on a useless swamp, yet as the New York City skyline hurtled towards the sky over the last 150 years, making the city the most expensive real estate in the world, the park has remained untouched. Why? Civic pride? Perhaps, but the recent strange happenings in and around the park are casting doubt on that, doubts that require investigating.
Edward Carnby, Paranormal Investigator is looking for answers to the strange events and horrific creatures reported in and around the park, but gets more than he bargained for when all the mysteries and terrors of the park spill out over the course of one apocalyptic night. It's your task to avoid the new frightening dangers of the park as you search for the answers to what these supernatural occurrences mean and why they are happening.