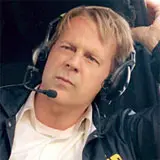 Last week was a particularly rough outing for many players in the Weekend Box Office Prophet game. This week doesn't get any easier.
Taking on Cloudy With a Chance of Meatballs, entering its second weekend, are newcomers Surrogates with Bruce Willis, the Fame remake, and dark sci-fi horror thriller Pandorum. None of them are targeting Meatballs' audience which should play a huge role in how the final weekend results shake out.
The Weekend Box Office Prophet game allows you to predict the total Friday-Sunday box office take for five films in millions of dollars. Results are tabulated after the final box office numbers are released next Monday with a new game launching the following morning. Have a gander at the cumulative and weekly results here.