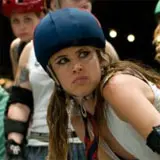 Can Drew Barrymore's directorial debut Whip It ride Ellen Page to a huge opening? Will Zombieland open for business and bash its way to the top spot? Or will Cloudy With a Chance of Meatballs beat the odds and win a third straight crown?
This weekend should be a wild ride at the box office with Whip It and Zombieland coming in with high expectations as well as the Toy Story and Toy Story 2 3D double-feature and Ricky Gervais in The Invention of Lying looking for a spot in the top 5. As we learned last weekend, Meatballs is a tough meal to slow down.
The Weekend Box Office Prophet game allows you to predict how each of these films will fare in the Friday-Sunday box office. Results are tabulated after the final box office numbers are released next Monday with a new game launching the following morning. Cumulative and weekly results, as well as links to past games, are always available on the main Weekend Box Office Prophet game page.
Prizes will be awarded randomly to successful players with a guarantee of one prize being awarded based on the results of this week's round. Good luck!