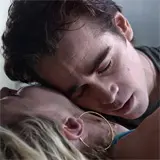 Remakes of Conan the Barbarian starring Jason Momoa and Fright Night with Colin Farrell join the Anne Hathaway love story One Day and the kids sequel Spy Kids: All the Time in the World with Jessica Alba in the second straight weekend featuring four new wide release films. Like last weekend, all eyes will be on a holdover which could leave all the newcomers looking up from below.
This new round of our Weekend Box Office Prophet Game invites you to log into the site and predict what these four new films along with The Help will earn in North American cinemas this weekend between Friday, August 19 and Sunday, August 21. We'll automatically take your prediction and average it in with the other players to go up against our Prophet prediction.
To make the game more interesting, we'll award the top individual player performer Shaun of the Dead on DVD if all the players scores averaged together can beat the Prophet on 3 or more of the films. If the Prophet wins then the prize will roll into the next round. Check out the main game page with past results.
Player prediction average scores will update below as new predictions are entered. This round's entry period closes at 9pm PST on Thursday, August 18. Get those predictions in.