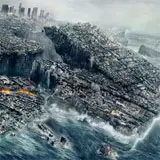 In Roland Emmerich's 2012, a prophecy of Armageddon controls the fate of our wold. In this latest round of the Weekend Box Office Prophet game, predicting 2012's earnings could make or break your results.
2012 comes to theaters this upcoming weekend with the only new competition being Pirate Radio on 1/3 the screens. The Robert Zemeckis 3D animated A Christmas Carol is the film's strongest competition but its lackluster opening last weekend puts 2012 in the drivers seat to determine its own fate.
Also eligible to predict in this latest round are The Men Who Stare at Goats and Michael Jackson's This Is It.
The objective of the Weekend Box Office game is twofold. You will predict the weekend box office gross for five films and try to be the closest of everyone playing. If you are, then you are hoping the cumulative score of all the players is better on 3 or more movies than the Prophet. If so, a DVD or Blu-ray Disc prize will be awarded. Weekly and cumulative scoring charts are available on the main game page.
The entry period for this round will close the evening of Thursday, November 12. The average player scores will update in real time below as new predictions are entered. Good luck!