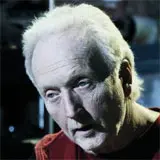 Last weekend the combination of Where the Wild Things Are, Paranormal Activity, Law Abiding Citizen and Couples Retreat set the box office on fire by racking up record receipts with its diverse offerings. This upcoming weekend sees a similar wave of new releases vie to topple Wild Things from its top spot perch.
Saw VI will explain why a deceased Jigsaw appears in promotional stills and aim to match the last chapter's huge $30 million opening while Cirque du Freak: The Vampire's Assistant hopes to feed off the Twilight frenzy and prove another successful tween book-to-screen adaptation. Astro Boy hopes to reach the stars as previous CGI-kids films have this year, while Amelia comes in the underdog with a dramatically lower screen count but plenty of star power on board.
The Weekend Box Office Prophet game lets you predict what five individual films will make in millions at the box office from Friday through Sunday. The average participant scores will be weighed against the Prophet's score and if the Prophet loses, as just happened last week, a prize or prizes will be issued. Weekly and cumulative scoring charts are available on the main game page.
Notice: Beginning with this round, the game will close a day earlier on Thursday evening rather than Friday evening as in the previous rounds. This should help alleviate any advantage last minute players may have had with digging up early ticket sales numbers on Friday.