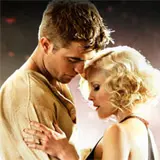 Will Rio earn another Carnival celebration at the box office, or will Robert Pattinson and Madea spoil the birds' fun?
That's the big question at the box office thish weekend as Rio hopes to win its second consecutive frame going up against Water for Elephants and Tyler Perry's Madea's Big Happy Family. Elsewhere, Scream 4 will try not to drop too hard after a disappoint debut last weekend, and Disney hopes Earth Day brings about solid business for their DisneyNature documentary film African Cats.
In this latest round of our Weekend Box Office Prophet Game, you can predict what each of these five films will make from Friday, April 22 through Sunday, April 24. For the past several rounds, the Prophet predictions have beaten the combined player predictions by a margin of 3-2, including the last round. The players need to step it up and win 3 or more films so the top player finisher can take home Jackass 3, The Fighter and Morning Glory on Blu-ray. If the Prophet beats the averaged player scores again then those prizes will roll into the next round.
The average player scores will update in real time below as new player predictions are added. This round's entry period will close tonight at 9pm PST Thursday, April 21. View the overall player leaderboard here and be sure to get your predictions in as your fellow players are counting on you.