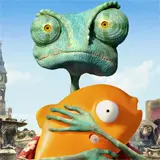 Rango rides the starpower of Johnny Depp into theaters this weekend while Matt Damon hopes to capture his Jason Bourne success in The Adjustment Bureau for Universal. Alex Pettyfer teams up with Vanessa Hudgens to woo teenage girls, while Topher Grace and Anna Faris look for laughs in a night gone wild.
These four newcomers will attempt to dethrone last weekend's box office champ Hall Pass when they open this Friday. In this Weekend Box Office Prediction Game, you can predict what each of these five film will make at the box office from Friday, March 4 through Sunday, March 6.
The the last round, our overall top player Shanen came out on top while the average player scores beat the Prophet 3-2. Shanen takes home the Blu-ray prize while Dr Who. A Christmas Carol on Blu-ray goes up for grabs in this round. If the Prophet beats the average player scores this week then that prize will roll into next week and be joined by another.
The average player scores will update in real time below as new player predictions are entered. This round's entry period will close at 8pm PST Thursday, March 3. Saddle up and get playing!