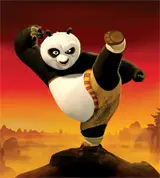 A pair of sequels in The Hangover Part II starring Bradley Cooper, Ed Helms and Zach Galifianakis, along with Kung Fu Panda 2, square off at the box office this weekend for the right to knock Johnny Depp in Pirates of the Caribbean: On Stranger Tides out of the top spot.
In this new round of our Weekend Box Office Prophet Game, you are tasked with predicting what these three films along with Marvel's Thor and Bridesmaids will make at the box office between Friday, May 27 and Sunday, May 29. All the player predictions will be averaged together to face off against The Prophet's prediction to see which side can win 3 or more of the films.
In the last round, the players won 3-2 so top player finisher vläd takes home the Blu-ray prize. The new prize for this round is Born to Raise Hell on Blu-ray.
Predictions made by you and other players will immediately update the average predictions below. This round's entry period will close tonight at 9pm PST Thursday, May 26. Get those predictions in before the sun sets.