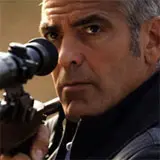 Takers and The Last Exorcism enjoyed a photo finish last weekend and must now square off against a trio of thematically opposed newcomers. George Clooney looks for some action in The American, Justin Long and Drew Barrymore look for love in Going the Distance, and Danny Trejo seeks revenge and maximum carnage in Robert Rodriguez' Machete.
These are the five films eligible for you to predict their box office total between Friday, September 3 and Sunday, September 9 in his new round of our weekly interactive Weekend Box Office Prophet Game. Your predictions will be averaged in with the other players to go up against The Prophet predictions.
Should the average player differences between the actual box office gross and predicted grosses beat the Prophet for 3 or more of the 5 films, the top player will win Date Night (Blu-ray), The Diplomat (Blu-ray) and NCIS Los Angeles: The Complete First Season (DVD), as well as the additional new prize this week Machine Gun McCain (Blu-ray). If the Prophet comes out on top then these prizes will roll into the next round and be joined by a fifth! We will still award a small DVD prize to the top player finisher should this occur (overall game leaderboard).
Reminder: The American opened on Wednesday so it will have been in theaters for two days prior to this weekend.
Once you are successfully logged in, the average player scores will update in real time below as new predictions are entered. The entry period will close at 9pm PST Thursday, September 2, with this round's results being published sometime Monday in our box office actuals report. Get hacking on those predictions!