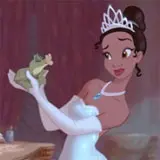 A pair of big releases for their respective studios highlight this latest round of the Weekend Box Office Prophet game.
Warner Bros. has pinned high hopes on Invictus, the latest from director Clint Eastwood that stars Morgan Freeman and Matt Damon that is scoring a solid 78% fresh at Rotten Tomatoes.
In Disney's camp is The Princess and the Frog, the first hand-drawn animated feature in years based on the classic fairytale. It currently is enjoying an even better 81% fresh rating.
The Weekend Box Office Prophet game lets you predict the weekend box office totals for five films. The difference between your prediction and the final tally for each film is then weighed against the other players to determine a top finisher. Likewise, the average score of all players is compared to the Prophet's score. View the main page with leaderboards.
If the average players score beats the Prophet, then the top finisher will win their choice of All About Steve with Sandra Bullock on their choice of Blu-ray Disc. Because the Prophet won last weekend, that prize of (500) Days of Summer on Blu-ray or DVD rolls into the pot for this round. So the winner will walk away with two flicks if the Prophet falls. If not, then both prizes roll into next week with a third added.
The average player scores will update in real time below as new predictions are entered. The entry period will close the evening of Thursday, December 10.