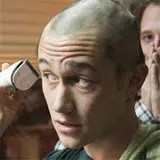 With Disney's The Lion King out of the picture, box office newcomers 50/50 with Seth Rogen and Joseph Gordon-Levitt, Dream House with Daniel Craig, Rachel Weisz and Naomi Watts, and What's Your Number? with Chris Evans and Anna Faris will hope to finish on top. In order to do so, they'll have to take out Moneyball with Brad Pitt and the family film Dolphin Tale, both of which came close to hitting $20 million a piece last weekend.
Our weekly Weekend Box Office Prophet Game is designed to let you predict what each of these films will make at the box office this weekend from Friday, September 30 through Sunday, October 2. Once you log into the site and make your predictions, they are averaged in with the other players to face-off against our Prophet predictions.
The goal is for the player predictions to beat the Prophet predictions by 3 or more films. In the last round, the Prophet won 3-2. The prize for that round awarded to the top player finisher if the players win, Everything Must Go on Blu-ray, rolls into this round and is joined by Scarface on Blu-ray.
Player prediction average scores will automatically update below as new predictions are entered. This round's entry period closes at 8:30pm PST on Thursday, September 29. View each week's individual player results here.