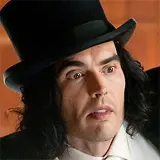 Universal's Hop is the favorite to win the box office battle this weekend, but Warner Bros. is hoping their remake of Arthur starring Russell Brand, Jennifer Garner and Helen Mirren will make some noise. Meanwhile, skilled young girls Saoirse Ronan and AnnaSophia Robb are the main attraction in Hanna and Soul Surfer, respectively, while Your Highness hopes to ride the name power of Natalie Portman, Danny McBride, James Franco and Zooey Deschanel to a decent opening.
In our weekly Weekend Box Office Prophet Game, you are given the opportunity to predict what each of these 5 films will make at the box office from Friday, April 8 through Sunday, April 10. Your score is averaged in with the other players to go up against our Prophet prediction in a heads-to-head battle.
If the Prophet wins 3 or more of the films against the players, then the Blu-ray prize pot of Jackass 3, The Fighter and Morning Glory will be awarded to the top player. If the Prophet wins, as he barely did 3-2 in the last round, then the prize pot rolls into the next round.
The average player scores will update in real time below as new player predictions are added. This round's entry period will close tonight at 9pm PST Thursday, April 7. View the overall player leaderboard here, and best of luck!