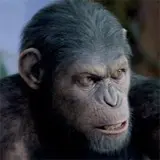 Summer winds down at the box office this weekend as the latest prequel reboot out of Hollywood, Rise of the Planet of the Apes, and yet another R-rated comedy in The Change-Up starring Ryan Reynolds and Jason Bateman, aim to topple Cowboys & Aliens from its top spot.
This weekend will be a tough one to predict as Apes is getting strong reviews but is struggling to build awareness and interested. m>The Change-Up is getting horrific reviews for the story, but even some of those critics admit the film is overall genuinely funny.
In this new round of our Weekend Box Office Prophet Game, you are invited to predict what these four films plus Captain America: The First Avenger will make at the domestic box office between Friday, August 5 and Sunday, August 7. Your predictions are averaged in with the other players to up against the Prophet. The winner is whoever takes 3 of 5 films. Additionally, you'll be able to track your score against each individual player on the main game page.
We plan on introducing prizing into the game if ongoing and increasing participation warrants it.
Player predictions entered will immediately update the average prediction scores below. This round's entry period will close tonight at 9pm PST Thursday, August 4.