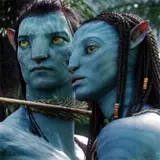 How much will Avatar make its opening weekend?
That's the possible hundred million dollar question Fox and visionary director James Cameron are keenly focused on as the most expensive movie ever made makes its way to theaters this Friday. Early reviews are good and having seen the film already I can back them up. Avatar is a spectacle not to be missed on the big screen.
You can try to predict what Avatar will make this upcoming weekend along with Did You Hear About the Morgans? and three holdovers from last weekend in our Weekend Box Office Predictions game. How you perform will be averaged in with everyone else and compared against the Prophet's predictions. If the players beat the Prophet on three or more of the films then a prize is awarded to the top player. If not, the prize rolls into next week.
The Prophet has won the past two rounds so (500) Days of Summer and All About Steve on Blu-ray or DVD will be combined with Jennifer's Body on Blu-ray or DVD. Three movies up for grabs… predict wisely!
Once you are logged in, the average player scores will update in real time below as new predictions are entered. The entry period will close the evening of Thursday, December 17.