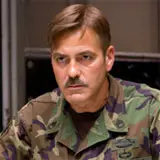 The Prophet is looking to get back on track after a pitiful showing the last two weeks of the Weekend Box Office Prophet game.
Whereas last weekend saw Michael Jackson's This Is It as the lone new wide release film, this upcoming weekend sees four new films attempt to dethrone the King of Pop. The likely candidate to win is Robert Zemeckis' A Christmas with 3D support and the highest screen count. Other newcomers include The Box with Cameron Diaz and James Marsden, The Fourth Kind with Milla Jovovich, and The Men Who Stare at Goats with George Clooney, Jeff Bridges and Ewan McGregor looking for laughs.
The objective of the Weekend Box Office game is twofold. You will predict the weekend box office gross for five films and try to be the closest of everyone playing. If you are, then you are hoping the cumulative score of all the players is better on 3 or more movies than the Prophet. If so, a DVD or Blu-ray Disc prize will be awarded. Weekly and cumulative scoring charts are available on the main game page.
The entry period for this round will close the evening of Thursday, November 5. The average player scores will update in real time below as new predictions are entered. Good luck!