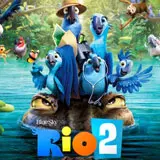 It was a battle of sequels this weekend at the North American box office. In one corner was the Marvel/Disney blockbuster Captain America: The Winter Soldier and in the other the debut of the Fox animated sequel Rio 2. The end result was a close fight for number one in which Captain America emerged as the victor (final numbers on Monday may dictate otherwise). Two other openers, the critically-acclaimed horror picture Oculus and the Kevin Costner sports drama Draft Day, both debuted to soft numbers.
The Winter Soldier Express keeps chugging along on 3,938 screens in its second weekend, earning an estimated $41.4 million. After ten days the Captain America sequel has earned a great $159 million thus far. The 56% drop from last weekend's record-setting April opening just over $95 million is in line with sophomore session drops for other superhero sequels. Iron Man 3 fell 58% in its second go around and Thor: The Dark World eased 57% in its second weekend. Winter Soldier will pass the $176 million final domestic gross earned by 2011's Captain America: The First Avenger within the next week. A domestic final haul north of $215 million is a possibility. Overseas, the sequel has earned a massive $317 so far, including a remarkable $80 million from China alone. The global haul now stands at a great $476 million.
Three years ago this week Fox released the animated feature Rio, which earned $39 million in its first weekend en route to a $143 million final haul. Given the film's popularity at the box office and on home video, a sequel was a given. That sequel arrived this past weekend on 3,948 screens to earn an estimated $39 million. Rio 2 opened in the number one spot on Friday, leading many to believe that it would be the number one film for the weekend. While the animated sequel did see a 28% bump in business on Saturday thanks to family matinees, it wasn't enough to keep The Winter Soldier out of the top spot thanks to that film's 49% Saturday surge. Reviews are mixed for the new film, which features the voice talents of Anne Hathaway, Jesse Eisenberg, Leslie Mann, Jamie Foxx and Bruno Mars. The film was released overseas prior to its US Debut and has earned a solid $125.2 million so far.
The horror film Oculus opened on 2,648 screens to earn an estimated $12 million, which was good enough to land in third place. The Relativity Pictures release received solid marks from critics but didn't catch on very well with horror fans. They gave the film a "C" CinemaScore rating and business dropped on Saturday by 12%, two signs that word-of-mouth has not been encouraging for the $5 million production which stars Karen Gillan (Doctor Who), Kate Sackhoff and Rory Cochrane.
Despite some heavy promotion, including an ad during the Super Bowl in February, over the past few weeks the Kevin Costner football drama Draft Day barely made any sort of impact with filmgoers. The Ivan Reitman-directed feature, which also stars Jennifer Garner, Ellen Burstyn, Denis Leary and Frank Langella, arrived on 2,781 screens to earn a weak $9.7 million to land in fourth place. Critics overall liked the feature but the low gross showed that most could care less about Football if it's not in season. The film marks the third box office disappointment for Kevin Costner following Jack Ryan: Shadow Recruit (he was easily the best part of that dud) and the espionage thriller Three Days to Kill.
Rounding out the top five was the sci-fi epic Divergent with $7.5 million from 3,110 screens. Off 42% from last weekend, Divergent has earned $125 million to date and should make its way to the $140 million mark domestically. Foreign grosses are currently at $50 million.
The remainder of the top ten was as follows:
6. Noah (Paramount) $7.45 million (-56%); $84.8 million
7. God's Not Dead (Freestyle) $4.4 million (-42%); $40.7 million
8. The Grand Budapest Hotel (Fox Searchlight) $4 million (-34%); $39.4 million
9. Muppets Most Wanted (Disney) $2.2 million (-64%); $45.6 million
10. Mr. Peabody & Sherman (Fox) $1.825 million (-64%); $105 million
Next weekend sees the Wednesday arrival of Heaven Is For Real and the Friday debuts of Bears, A Haunted House 2 and the Johnny Depp Sci-Fi thriller Transcendence.
Happy Easter, everyone!